MORNING CELINE, CADIZ AND GREAT MARY ARE LATEST ADDITION TO THE COMPANY'S MANNED VESSELS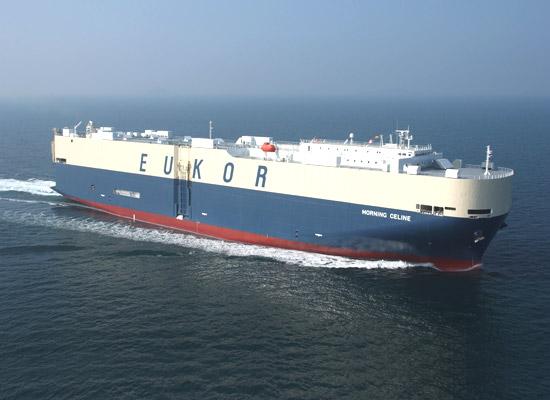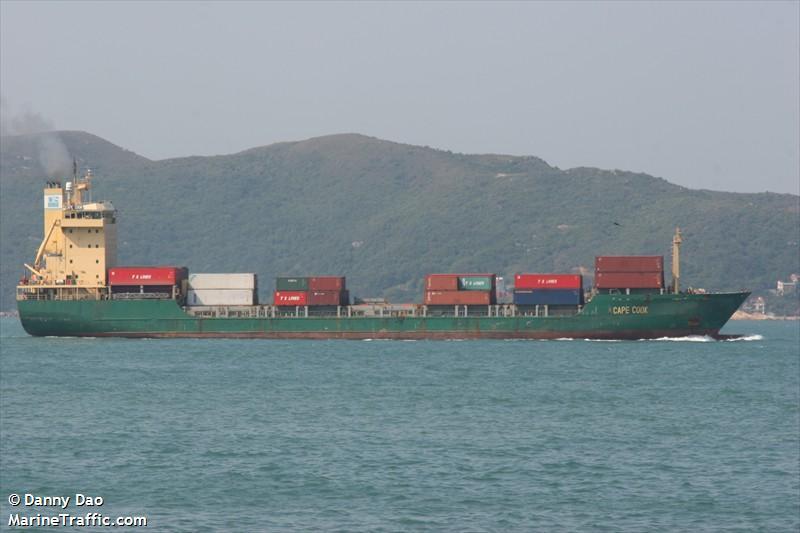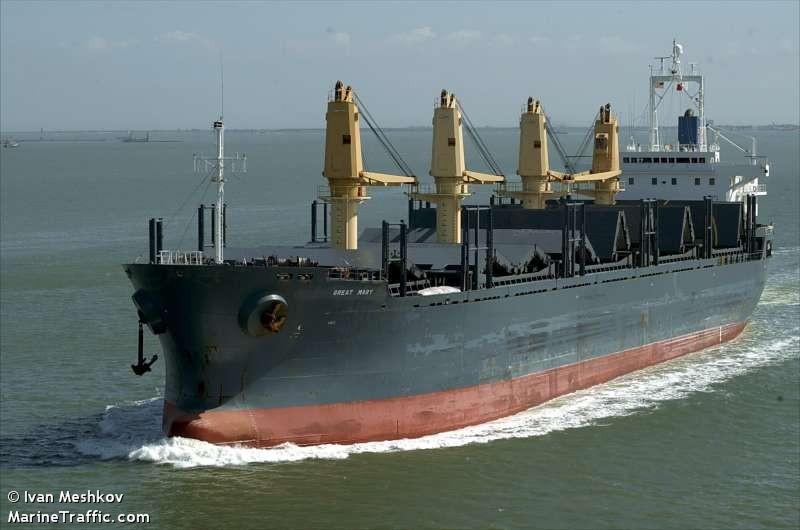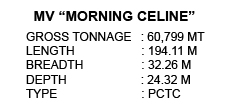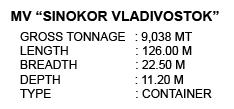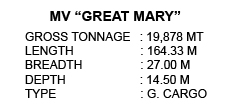 Three (3) vessels add-up to the current manning vessels of the company these months of May and June 2013, a PCTC, a Container and a General Cargo ships.
First was the Morning Celine, a worldwide trading Pure Car and Truck Carrier (PCTC) built in 2009. She has a Gross Registered Tonnage of 60,799 MT with 6,502 CEU.
She was handed over to our competent and well experienced PCTC full Filipino crew, under the command of Capt. Benjamin S. Dotimas and C/E Pancho T. Villar last
May 30, 2013 at the port of Pyeongtaek, Korea. She is now managed by our Principals, Excel Marine Co., Ltd., Fukuoka, Japan, owned by Hakuyo Shipping Co., Ltd.
On June 2, 2013 the company's rating crew boarded the Sinokor Vladivostok ex.Cadiz at the port of Shanghai, China.
She was officially turned-over to her new Owners Sinokor Merchant Marine Co., Ltd. and managed by our Principals, Fair Shipmanagement Co., Ltd., Busan, Korea.
This 9,038 MT container ship is now under the command of Korean officers and engineers
Meanwhile, the 19,878 metric tons, 2000 built General Cargo vessel, Great Mary is now owned and managed by our Principal Dooyang Shipmanagement Co., Ltd., Busan, Korea.
And, just like the Sinokor Vladivostok, she is now manned by Korean officers and engineers and our proficient Filipino rating crew
It was on June 8, 2013 that she was officially handed over to her new crew at the port of Chittagong, Bangladesh.
With the addition of these 3 vessels, it continues to show how confident foreign Owners/Principals of the competence and proficiency of Filipino crew to properly manned their vessels.
Congratulations to their Owners, managers, operators and crew; and, may they have bon voyage as they traverse all ocean and seas!