2 LATEST ADDITION TO THE COMPANY'S MANNED VESSELS DELIVERED
Two (2) latest addition vessels to the company were newly delivered, 5 days from each other, at Hyundai Heavy Industries Co., Ltd., Ulsan, Korea and at Tsuneishi Shipbuildyard, Balamban, Cebu, Philippines, respectively.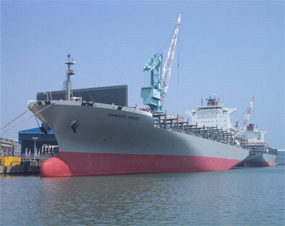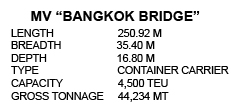 First is the 44,234 MT, 4,500 TEU, Container Carrier vessel, MV Bangkok Bridge on August 27, 2010.
She is owned by Wealth Line Inc. / Fukujin Kisen Co., Ltd., Ehime, Japan and chartered by Japanese shipping giants, K Line. Under the command of Korean Capt and C/E, she is also manned by Filipino C/O, Junior Officers and rating crew.
At 1400 hrs Korean Standard Time, her engines propelled her to her maiden voyage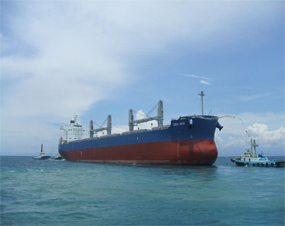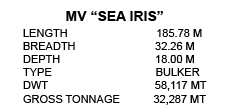 And, on September 01, 2010, the MV Sea Iris, was delivered by Full Filipino crew, under the command of Capt. Benjamin C. Dalanon Jr. and C/E Adam M. Pacheco.
The 32,287 GRT, Handy Size Bulk Carrier is owned and managed by our Principals, Santoku Senpaku Co., Ltd.,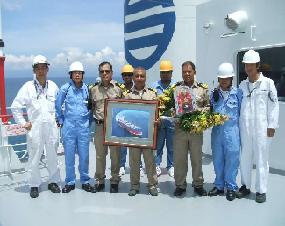 She is the second delivery by the company's Full Crew Filipino under the same Principal at Tsuneishi Shipbuildyard in Cebu this year, after the MV Sea Melody.
With the same maiden voyage as her sister ship, her engines thrusts her towards the start of her long years of journeys at 1100 hrs, Philippine Standard Time.
These two (2) ships are a welcome addition to the company's fleet and will definitely provide another gainful employment to Filipino seafarers.
Bon voyage to both MV Bangkok Bridge and MV Sea Iris towards a successful and triumphant services to all ocean and seas!