"ASIAN HERO" RETURNS TO THE COMPANY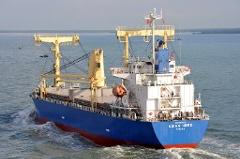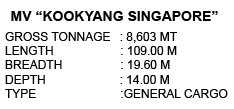 The MV Asian Hero is once manned by the company for 2 years (2007-2009), under our Japanese Principals, but was transferred to other manning agency.
On February 6, 2012, after 3 years since she left, the ship returns to the company as Kookyang Singapore, now under the Korean Flag.
She is now manned by Korean Senior Officers/Engineers and Filipino junior officer/engineer and rating crew, who joined her last February 5, 2012, in time for her re-delivery to her new Owners at Osaka, Japan.
Built in 2005, she is now owned by Kookyang Shipping Co., Ltd., a subsidiary of Sinokor Merchant Marine Co., Ltd., Seoul, Korea, and managed by our Principals, Fair Shipmanagement Co., Ltd., Busan, Korea.
Welcome back to Kookyang Singapore and bon voyage!