SC-124 D/W 58, 100MT TYPE BULK CARRIER LAUNCHED AT TSUNEISHI SHIPBUILDYARD AT BALAMBAN, CEBU, PHILIPPINES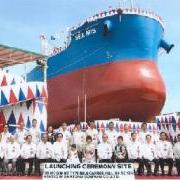 After the delivery of MV Sea Melody on April 07, 2010 another 58,100MT D/W Type Bulk Carrier by our Principals, Santoku Senpaku Co., Ltd., was launched at Tsuneishi Shipbuildyard, Balamban, Cebu, Philippines last June 14, 2010.
The launched was attended by Mr. Masashi Taga, President of Santoku Senpaku Co., Ltd. and some of his staffs, with representatives from Charterers MOL (Mitsui O.S.K. Lines, Ltd.), Bank, Itochu Corp., NK, Shipbuilders and our Chairman, C/E Tae Gi Min.
As a Filipino company, it's a very happy sight to see all these Japanese and Korean executives proudly donning the Philippines, Barong Tagalog, during the launched.
The ship will be named MV Sea Iris and will be delivered on September 01, 2010 towards her maiden voyage.
She will be commanded by Filipino Master and C/E of the company with well trained, able and proficient all crew Filipino.
Onward to the successful delivery of MV Sea Iris!