PCTC MV "GARNET ACE", DELIVERY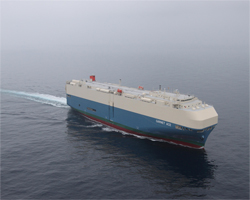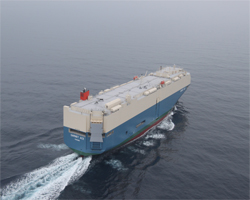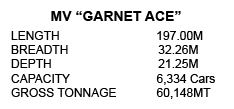 The 6,334 cars capacity, Pure Car and Truck Carrier (PCTC), MV Garnet Ace was delivered on July 8, 2010 at Mitsubishi Heavy Industries, Ltd., Nagasaki, Japan.
Commanded by our well experienced PCC Master and C/E, Capt. Wilfredo J. Clemente and C/E Reynaldo P. Besana Jr., she sailed from Nagasaki towards her maiden voyage to Kanda at 1400hrs JST on same day.
Capt. Clemente and C/E Besana was backed by FSC's seasoned PCC all crew Filipino officers and ratings to ensure this vessel's safe and efficient operation to satisfy the requirements of her Charterers and Owners.
MV Garnet Ace is the 7th PCC vessel currently manned by FSC, which gives bigger employment opportunities to our loyal and experienced PCC crew.
Bon voyage and best wishes for a safe and best services to all oceans and seas of MV Garnet Ace!