MV TRANS LEADER IS AN AWARDEE FOR NYK LINES 2009 CAR CARRIER OF THE YEAR AWARD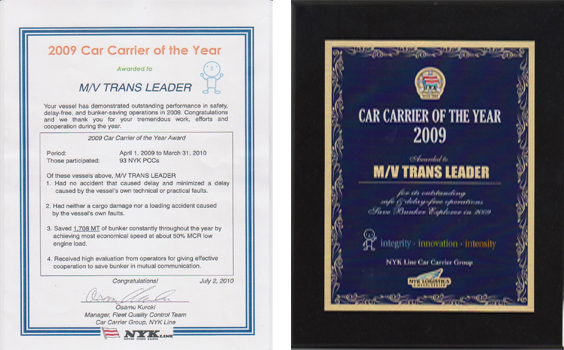 Congratulations to the Master and crew of the MV Trans Leader for being selected as 1 of ten vessels to receive the Car Carrier of the Year Award for Year 2009 by NYK (Nippon Yusen Kaisha Ltd.) for special accomplishments.
The vessel is highly commended by NYK, particularly as a "ship that caused neither at-fault cargo damage nor a loading accident."
This two (2) year old vessel's good accomplishments was recognized and given citation by NYK, for the period April 2009-March 2010, for demonstrating excellence in safety, delay-free and bunker-saving operations, most notably, as follows:
1. Ships that had neither (1) an accident that caused a delay nor (2) a delay caused by the vessel's own technical or practical faults.
2. Ships that caused neither at-fault cargo damage nor a loading accident.
3. Ships that received a high evaluation from the operator for participation in the Save Bunker Explorer 2009 program and achieved effective bunker― saving.
This award evidently justifies the good management, control and encouragement of her Masters, Capt. Ray Luis L. Capalaran (2008-2009) and Capt. Elvis C. Paculba (2009-Present) and Chief Engineers, C/E Romualdo G Maglana (2008-2009) and C/E Erwin C. Lubiano (2009-2010); and, the good cooperation and hard work of her officers and crew.
The company is very proud of you. Carry on with the work well done for the continuous safety, smooth and efficient operation of this vessel.