MV MORNING CLAIRE: THE COMPANY'S FIRST NEW DELIVERY VESSEL FOR THE NEW YEAR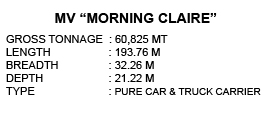 A New Year means a new opportunity, hence this 1st new delivery vessel of the company for Year 2012.
On January 27, 2012, the proud and well experienced full Filipino crew of the company delivered the Pure Car & Truck Carrier (PCTC), "MORNING CLAIRE" at Shin Kurushima Shipbuildyard.
At 1100 hrs on same date, under the command of our young and brilliant Master and C/E, Capt. Bernard S. Molano and C/E Efren B. Gumbao, she safely departed towards her maiden voyage and loading port to Ulsan, Korea before proceeding to South America to discharge cars in her full car capacity and back to her home port in Korea.
MORNING CLAIREhas a might of 60,825 metric tons, 5,000 cars capacity on 12 decks with 2 liftable, making her the biggest PCTC of the company.
She is chartered by Eukor, Owned by Hakuyo Shipping Co., Ltd. and managed by our Principals, Excel Marine Co., Ltd., Fukuoka, Japan.
A welcomed addition to the car carrier vessels manned by the company, making our PCTC count to 5 ships with 2 PCCs, and 3 more PCC from our sister company, Cordial shipping Inc.
Additional ship to the company means more work opportunity to our crew and to Filipino seafarers.
Congratulations to the Crew, her Owners and Principals for her successful delivery and bon voyage!