THE "GARDENIA ACE", CORDIAL SHIPPING FIRST NEW DELIVERY VESSEL FOR THE YEAR 2011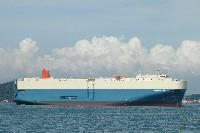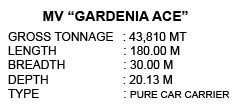 After Cordial Shipping's successful re-delivery of the (2) PCC vessels last Jan. and Feb. 2011, it now has the privilege to manned a new delivery vessel that was delivered to its owners last September 15, 2011.
"GARDENIA ACE"a Pure Car Carrier (PCC) vessel laden with a GRT of 43,810 metric tons, as owned by Eastern Car Liner Ltd. (ECL) of Tokyo, Japan and is being managed by its Principals, Fuyoh Shipping Company.
Under chartered by Mitsui OSK Line (MOL), she was delivered at Mitsubishi Heavy Industries Shipyard at Nagasaki, Japan on September 15, 2011, full of confetti to bid her on her maiden voyage.
At 1330 hrs on same date, she has safely departed towards her 1st voyage and loading port to Ulsan, Korea before proceeding to Australia and back to Japan.
She is manned by Cordial Shipping Inc.'s well selected and skilled PCC experienced Full Filipino Crew headed by the good command of Capt. Renato L. Clitar and C/E Rene M. Maglana, who are both Superintendents of ECL.
Our Warmest Congratulations to Cordial Shipping, Inc., its Crew, their Owners and Principals for the successful delivery and Maiden Voyage of Gardenia Ace.
Note: Gardenia Ace is the replacement of the previous vessel manned by Fair Shipping Corp., with same Charterers, but of different Owners.