BIGGEST and LATEST ADDITION TO THE COMPANY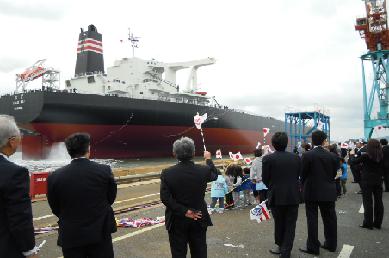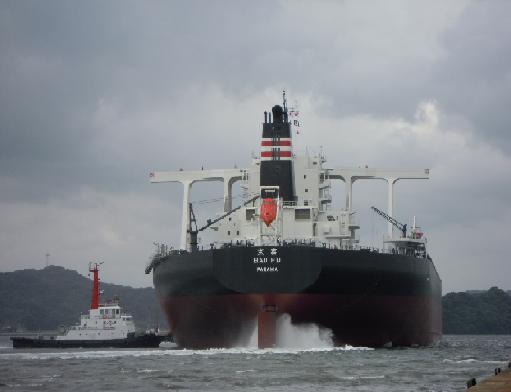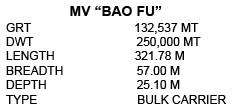 The biggest ever vessel manned by the company was the two (2) 200,500 DWT, 104, 721 GRT Bulk Carrier delivered last 2007.
But, their sizes was eclipsed by the delivery of MV Bao Fu on October 26, 2010 at Saga, Japan, build by Namura Shipbuildyard Co., Ltd., which makes her the biggest ever and latest addition to the company.
MV Bao Fu is a Very Large Ore Carrier (VLOC), Bulk Carrier, laden with a D.W.T. of 250,000 MT and G.R.T. of 132,537 MT.
After her delivery ceremony, her engine thrust her to her maiden voyage, manned by able and capable Korean Senior Officers, Filipino 1/AE, Junior Officers and crew.
She is the 7th Capesize Bulk Carrier manned by the company, apart from its numerous Post-Panamax, Panamax and Handy Sized Bulk Carriers.
A Nippon Yusen Kaisha Ltd. (NYK) chartered and Fukujin Kisen Co.,, Ltd. (FJL) Owned vessel, she is a big addition and will give big opportunities to the company's skilled and proficient Filipino crew.
Bon voyage to her long, extensive and productive service afloat the four (4) ocean and seas!