ANOTHER PCTC FOR THE COMPANY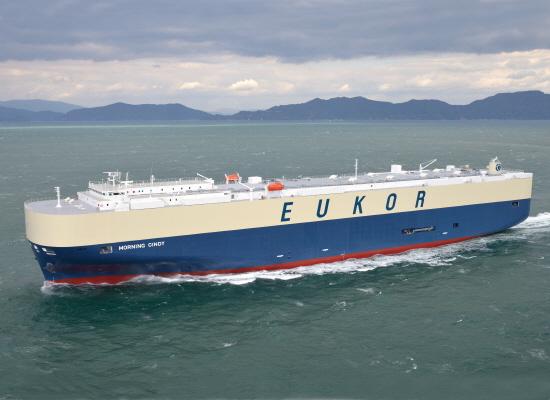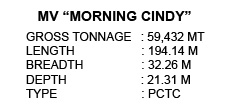 With 10 vessels delivered/transferred to the company and 1 for Cordial Shipping for year 2012, we may positively say that it has been a successful year.
It shows the continued trust and confidence of our beloved Japanese and Korean Principals/Owners to the good ability, professionalism and seafaring skills of Filipino crew. Of this 11 ship's, 6 are manned by full Filipino crew.
The Morning Cindy, a Pure Car and Truck Carrier (PCTC) with a 5,500 cars capacity is the latest of these 11 vessels.
She was delivered at Imabari Shipbuildyard last November 29, 2012 under the command of our young and well experienced PCTC Capt. and C/E, Capt. Bernard S. Molano and C/E Efren B. Gumbao.
Her Kobe diesel engine thrusted her to her maiden voyage to Korea and to the rest of the world to deliver new and second hand cars and trucks on the same date.
Congratulations to her Owners, Hakuyo Shipping Co., Ltd. and managers, Excel Marine Co., Ltd. and all concerns for this new vessel; and, our sincere appreciation for your continued confidence and trust to Filipino seafarers.
Rest assured of the company's continuous good crew management for her smooth, safe and efficient operation
Bon voyage!