3rd PCTC NEW DELIVERY VESSEL FOR THE YEAR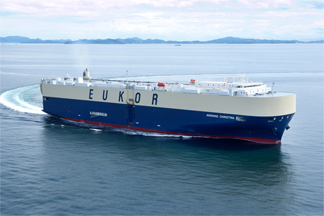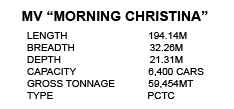 The 3rd 6,400 car capacity Pure Car and Truck Carrier (PCTC) promised by our Principals, Excel Marine Co., Ltd. to be manned by the company's full Filipino crew this year has been successfully delivered on September 27, 2010, after the MV Garnet Ace and MV Bess last July 8 & 23, 2010 respectively.
The 59,454 GRT, Panama flag PCTC vessel, MV Morning Christina, under the command of Filipino Captain, Capt. Gorgonio I. Tayo and Chief Engineer, C/E Godofredo I. Gonato Jr. sailed from Imabari Shipbuildyard at 1430 JST, towards her maiden voyage.
She is the 1st PCTC vessel chartered out to EUKOR manned by full crew Filipino.
With the addition of this vessel, the company now mans total of 8 PCC/PCTC vessels, 5 from our Principals and our Shipowners TOA Shipping Co., Ltd. / Hakuyo Shipping Co., Ltd.; and gave more opportunities to our skillful and PCC/PCTC well experienced Filipino seafarers.
This new delivery vessel shows the continuous trust and confidence of foreign Principals and will definitely provides another gainful employment to Filipino seafarers.
Best wishes to MV Morning Christina's safe voyages and journeys ahead.