DELIVERY OF MV "BESS"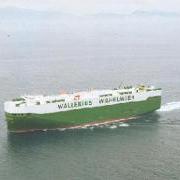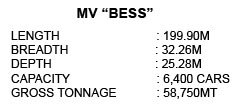 The shipping business has truly recovered from the recession the last two (2) years.
The good testimony to this is the deliveries of numerous new vessels around the world, which includes the 6,400 car capacity, PCTC, MV Bess at Shin Kurushima Toyohashi Shipbuilding Co., Ltd., Toyohashi, Japan on July 23, 2010.
She is the 2nd new delivery car carrier vessel by our Principal, Excel Marine Co., Ltd., Fukuoka, Japan in less than 1 month.
A worldwide trading vessel and operated by Wallenius Wilhelmsen, she is initially commanded by the proud Filipino Master and C/E, Capt. Bernard S. Molano and C/E Ranulfo H. Servande.
At 1400 hours on July 23, 2010, with FSC's able and skilled all Filipino crew, she sailed from Toyohashi for Nagoya towards her maiden voyage to Europe to safety delivery her cargo cars.
Best wishes for MV Bess safe voyages ahead!